Also see: Ice history
Roller champions: 2003, 2005, 2011
| Year | Games | Record | Points | GF/GA | PM | Standings | Playoffs | Top Scorer | Goalie | Champs |
| --- | --- | --- | --- | --- | --- | --- | --- | --- | --- | --- |
| 2001 | n/a | 1/na | 2 | n/a | n/a | 4th (4) | n/a | n/a | n/a | Dragons |
| 2001 | n/a | n/a | n/a | n/a | n/a | n/a | n/a | n/a | n/a | n/a |
| 2002 | n/a | n/a | n/a | n/a | n/a | n/a | n/a | n/a | n/a | n/a |
| 2002 | n/a | n/a | n/a | n/a | n/a | n/a | n/a | n/a | Borlik | n/a |
| 2003 | 18 | 14-2-2 | 30 | 75/45 | n/a | 1st (7) | 3-1? (co-champs) | Bager? | Byrne/Borlik | Squirrels/ Hurricanes |
| 2004 | 22 | 13-8-1 | 27 | 93/61 | n/a | 4th (11) | 1-1 (Rocks) | Bager? | Byrne/Borlik | The Rocks (5 Holes) |
| 2005 | 18 | 9-5-4 | 22 | 92/47 | n/a | 3rd (7) | 3-0 (Champs) | Marks (30), Ford (20 goals) | Byrne/Sewell | Squirrels (Chupacabras) |
| 2006 | 19 | 14-4-1 | 27 | 95/49 | n/a | 2nd (9) | 1-1 (Enigma) | Ford (21 goals) | Sewell | Enigma (5 Holes) |
| 2007 | 20 | 12-6-2 | 26 | 95/68 | 174 | 3rd (8) | 1-1 (Enigma) | Ford (22-11) | Sewell | S. Spring (Enigma) |
| 2008 | 20 | 11-6-3 | 25 | 88/76 | 144 | 2nd (6) | 0-1 (Whale) | Wautel (16-17) | Sewell | Whale (Army Ants) |
| 2009 | 19 | 9-10 | 18 | 83/82 | 110 | 5th (8) | 0-2 (S. Spring) | *Wautel (25-13) | Sewell | Army Ants (H. Rollers) |
| 2010 | 15 | 6-7-2 | 14 | 81/58 | 99 | 5th (8) | 0-1 (5 Holes) | Tessar (18-12) | Miller/Sewell | H. Rollers (C. n Waffles) |
| 2011 | 14 | 11-3 | 22 | 89/55 | 76 | 2nd (9) | 3-0 (Champs) | *Tessar (17-18) | Miller | Squirrels (Jesters) |
| 2012 | 14 | 11-3 | 22 | 86/68 | 70 | 1st (8) | 1-1 (S. Spring) | Smith (13-16) | Miller/Sewell | Jesters (S. Spring) |
| 2013 | 14 | 11-3 | 22 | 77/54 | 72 | 2nd (8) | 1-1 (TWSS) | *Carpenter (22-10) | Sewell | TWSS (Jesters) |
| 2014 | 14 | 9-4-1 | 19 | 73/53 | 50 | 3rd (8) | 2-1 (Dinosaurs) | Tessar (14-11) | Sewell/Miller | Dinosaurs (Squirrels) |
| 2015 | 14 | 5-6-3 | 13 | 67/71 | 44 | 5th (8) | 0-1 (Jesters) | Charles Warner (20/9) | Miller | Dinosaurs (High Rollerz) |
| 2016 | 14 | 10-3-1 | 21 | 91/54 | 26 | 2nd (8) | 0-1 OT (Team Mylec) | Vivek Pinto (17-9) | Miller/Owen | High Rollers (Dinosaurs) |
| 2017 | 14 | 9-3-2 | 20 | 90/65 | 60 | 2nd (6) | 0-1 OT (High Rollerz) | Charles Warner (22/10) | Miller | Jesters (High Rollerz) |
| 2018 | 14 | 4-10 | 8 | 51/107 | 50 | 6th (7) | 0-1 (TWSS) | Charles Warner (14/4) | Sullivan/Miller/Davis/Owen | Jesters (High Rollers) |
| 2019 | 14 | 3-11 | 6 | 57/117 | 42 | 5th (6) | 0-1 (Jesters) | Nicholas Baxley (9/13) | Miller | TWSS (High Rollers) |
| 2021 | 14 | 6-8 | 12 | 67/84 | 87 | 5th (7) | 1-1 (Rough Riders) | Jon Der (10/11) | Fletcher | TWSS (Rough Riders) |
| 2022 | 14 | 0-14 | 0 | 46/150 | 14 | 5th (5) | 0-1 (Dinosaurs) | Jon Der (11/5) | Dorsey/Cryan/Steib | Roller Town Knights (TWSS) |
*Leading scorer in division.
2003
There was no photo taken, as it was a best-of-three series and Game 3 was cancelled due to Hurricane Isabel. The Squirrels were facing… the Hurricanes.
2005 Champions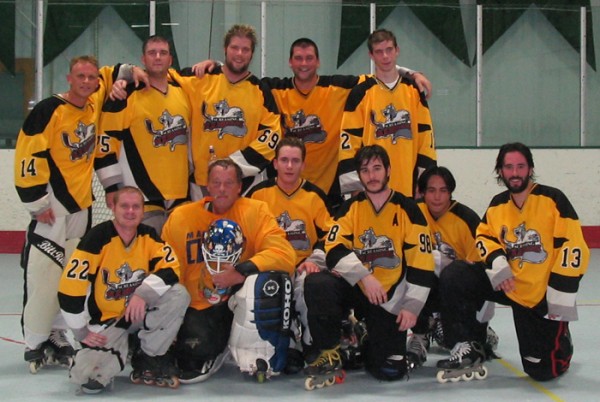 2011 Champions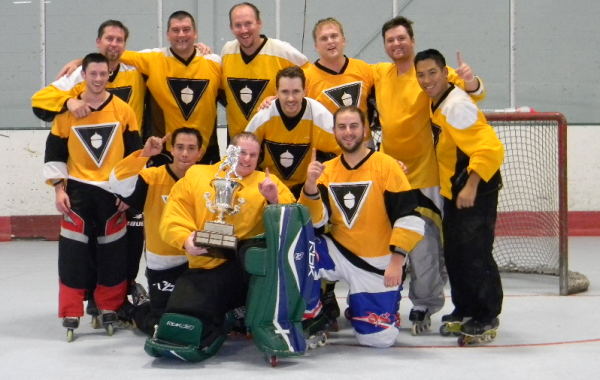 Note: The team became the Screaming Squirrels in 2003. In 2001, they were called Recreational Hazzard, and in 2002, they were the Devils. The second session for 2001, and first session for 2002 were played in the Rockville roller ball league. All others were played in Laurel's Bronze Division.