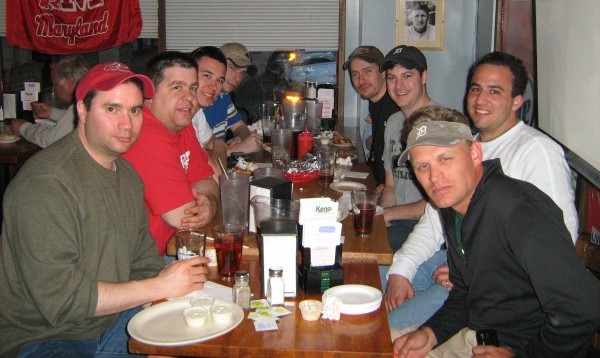 With a total of eight skaters at a time, the Squirrels played an all-round good game Sunday and beat the Laughing Skulls, 6-1.
It was Michael Bronson's final game as a Squirrel, but he was only able to play in the first period due to a scheduling conflict with another team. He had an assist and in typical fashion, also a penalty before he went to the other rink. After he left, Tero Moberg finally found the rink and gave the Squirrels some relief on the bench.
This game will also be noted as one where players we could've used showed up to watch some of the game, including former roller captain Ed Bager. Hope you enjoyed the show, guys.
Game Details
Scoring
Shots on Goal

| | | | | |
| --- | --- | --- | --- | --- |
| | 1 | 2 | 3 | Total |
| Laughing Skulls | 1 | 0 | 0 | 1 |
| Screaming Squirrels | 3 | 2 | 1 | 6 |

Laughing Skulls 14
Squirrels 33
Penalties
Period 1
Laughing Skulls Bronze 2 – Fred Newton – (Tripping Minor), 2 min , 2:59
Laughing Skulls – Fred Newton – (Hooking Minor), 2 min , 6:09
Screaming Squirrels – Jason Nehmer – (Hooking Minor), 2 min , 6:41
Screaming Squirrels – Michael Bronson – (Cross Checking Minor), 2 min , 14:10
Period 2
Laughing Skulls Bronze 2 – Vladimir Semendyai – (High Sticking Minor), 2 min , 4:17
Laughing Skulls – Vladimir Semendyai – (Tripping Minor), 2 min , 4:17
Screaming Squirrels – Daniel Carter – (Tripping Minor), 2 min , 6:13
Laughing Skulls – John Lozupone – (High Sticking Minor), 2 min , 9:30
Laughing Skulls – Vincent Barracchini – (Hooking Minor), 2 min , 14:54
Period 3
Laughing Skulls Bronze 2 – Vladimir Semendyai – (Holding Minor), 2 min , 4:07
Screaming Squirrels – Chi Pham – (Interference Minor), 2 min , 10:33
Rosters
Laughing Skulls
Screaming Squirrels
Goalies
Players
Staff
Other Facts
Referee
Bert Whitelock, Norm WilliamsScore Keeper
Thomas Haworth