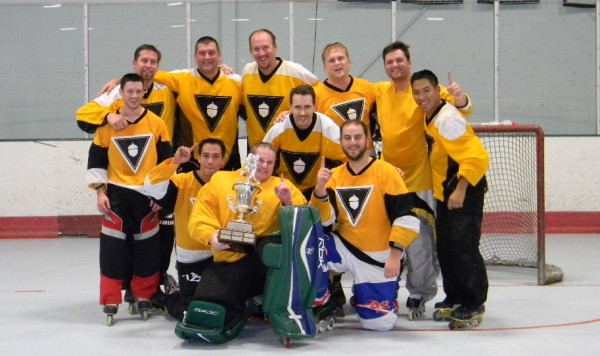 The Screaming Squirrels won their third roller championship, and first in six years, with a come-from-behind victory against the top-seeded Jesters, 3-2, on Thursday.
Down 2-0 at the half, the Squirrels caught a break in the second when the Jesters – one of the least penalized teams in the league – went down two men on hooking and charging calls. That's when yet another Don Marks slap shot (he's had several lately) struck the net to cut the Jesters' lead to 2-1.
After killing Ben Sumner's hooking penalty, the Squirrels tied the game as Eric Smith connected with Brian Iciek to tie the game. Less than two minutes later, Iciek struck again – giving him a team-leading six goals in the playoffs – which gave the Squirrels a 3-2 lead down the stretch.
The game was hardly over. The Jesters drew a four-minute high-sticking penalty with about three minutes remaining in the game, meaning they'd have an opportunity to tie and then win the game on the power play. But stellar penalty killing, plus two drawn penalties by Juan Canchasto and Mark Tessar in the waning seconds, actually gave the Squirrels a 3-on-2 power play as time ticked down.
Stew Miller made 18 saves to keep the Squirrels in the game.
It was also a sweet moment for new Squirrels Steven Heger and Ed Owen, who was out on injured reserve. Their previous team, the Hurricanes, ended up sharing the 2003 championship with the Squirrels when the best-of-three series was cut short due to Hurricane Isabel. Two seasons later, the two teams were destined for a rematch but an awful upset against the top-seeded Hurricanes in the semifinals paved the way for a Squirrels victory in the finals against the Chupacabres. After that, the Hurricanes moved up a level, then disbanded this year as the Squirrels picked up their former foes.
Sumner, Marks, Rob Myers and Chi Pham were the only players to win all three championships with the roller Squirrels. It was the second for Canchasto and Jeff Ford.
The Squirrels are already looking forward to next season and looking to be just as good.
  The Gardens IH – Patrick      Thu, Aug 11, 2011 at 7:10 pm
Jesters 2
Squirrels 3
 Game Details
 Scoring
Shots on Goal

| | | | |
| --- | --- | --- | --- |
| | 1 | 2 | Total |
| Jesters | 2 | 0 | 2 |
| Squirrels | 0 | 3 | 3 |

Jesters 20
Squirrels 24
Penalties
Period 1
Squirrels – Robert Myers (Hooking), 2 min , 12:43
Period 2
Jesters – James Bales (Hooking), 2 min , 4:23
Jesters – Randy Scope (Charging), 2 min , 5:11
Squirrels – Benjamin Sumner (Hooking), 2 min , 9:08
Squirrels – Robert Myers (Holding Stick), 2 min , 14:19
Squirrels – Robert Myers (High Sticking), 2 min , 14:19
Jesters – Christopher Able (Hooking), 2 min , 16:34
Jesters – Matt Jenkins (Roughing), 2 min , 16:48
Rosters
Jesters
Squirrels
Goalies
Players
Other facts
Referee
Default Referee, Gerry Young, Chris PoisalScorekeeper
Zack Astran