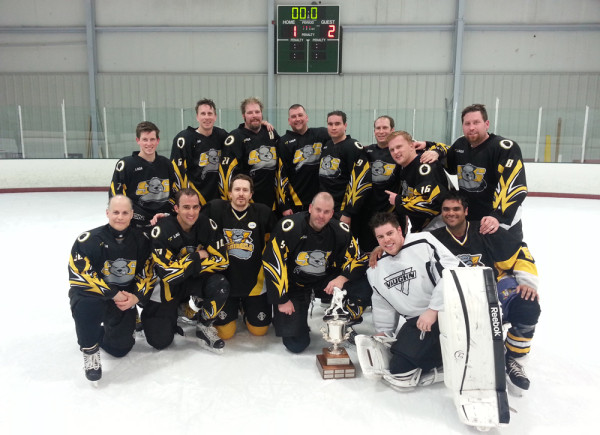 The Screaming Squirrels won their fifth ice championship Thursday, defeating the top-seeded Bullets, 2-1, in the Bronze 2 finals. It was the second consecutive winter season the Squirrels won, though in two different divisions.
The Squirrels caught a huge break in the first period which ultimately decided the game. Only four minutes in, two Bullets took penalties at the same time to give the Squirrels an early 5-on-3. Then, the Bullets took another minor, and the Squirrels cashed in. Don Marks scored on what he called his prettiest one-timer in five years, as his slap shot from the point got through Bullets goalie and sometime-Squirrels sub Adam Hart. Rob Myers scored shortly after.
The Squirrels sat on the 2-goal lead for the rest of the game, as goalie Ryan Griffiths made 24 saves, many under high pressure, to ensure the victory. The Bullets scored on a frantic play with 16 seconds remaining, but it wasn't enough for them.
During the regular season, the Squirrels had a record of 1-4-1 against the three teams they faced in the playoffs, while ending up a third seed.
The Screaming Squirrels express their gratitude to goalies Ryan Griffiths, who came in as the semi-full time goaltender, Shane Smith, who delivered two clutch playoff wins for the Squirrels, and Adam Hart, who despite losing to the Squirrels in the championship game this year and last year, still subbed for them in those very same seasons.
FINAL
  The Gardens IH – Logsdon      Thu, Apr 10, 2014 at 8:33pm
Bullets 1
Squirrels 2
 Game Details
 Scoring
Shots on Goal

| | | | | |
| --- | --- | --- | --- | --- |
| | 1 | 2 | 3 | Total |
| Bullets | 0 | 0 | 1 | 1 |
| Screaming Squirrels | 2 | 0 | 0 | 2 |

Bullets 25
Squirrels 24
Penalties
Period 1
Bullets – Dylan Drzewicki (Unsportsmanlike Conduct), 2 min , 4:13
Bullets – Jimmy Stardley (Roughing), 2 min , 4:13
Bullets – Jean Blais (Holding), 2 min , 5:46
Screaming Squirrels – Brent Machado (Tripping), 2 min , 7:57
Bullets – Timothy Vaughan (Unsportsmanlike Conduct), 2 min , 10:12
Screaming Squirrels – Desmond Richelsen (Unsportsmanlike Conduct), 2 min , 10:12
Period 2
Bullets – Jonathan Bratt (Interference), 2 min , 2:11
Bullets – Jean Blais (Hooking), 2 min , 10:49
Screaming Squirrels – Brent Machado (Holding), 2 min , 10:49
Period 3
Bullets – Daniel Friedman (Too Many Men(Bench Minor), 2 min , 10:08
Screaming Squirrels – Tero Moberg (Holding), 2 min , 11:00
Bullets – John Twomey (Roughing), 2 min , 13:25
Screaming Squirrels – Doug Winters (Roughing), 2 min , 13:25
Screaming Squirrels – Mark Tessar (Delay of Game), 2 min , 13:46
Rosters
Bullets
Screaming Squirrels
Goalies
Players
Other facts
Referee
Thomas Demers, Chuck EvansScorekeeper
Jason Flanagan