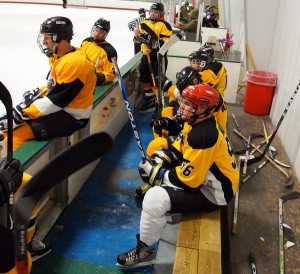 A slow start in the second game of the season turned into a slippery slope for the Squirrels, who gave a lesson in mistake correction and playing a full 45 minutes. Scurvy II got the scoring started early with their star player taking advantage of the coasting Squirrels, skating through both the offense and defense to score unassisted. The Squirrels answered back with a long pass off the boards from Doug Winters to give Tony Richelsen a clear shot at the goalies glove side.

The second period was shocking for the Squirrels, who found themselves two goals down to a team they normally beat with ease. A little bit of desperation may have landed this deficit as the forward lines were taking long shifts and the defense were pinching to try and even the game. Rob Myers, who was a healthy scratch for the game correctly stated "You guys should be crushing them."
That comment must have sparked something in the Squirrels, as in the third period, they looked like a different team. Very early in the period, Brent Machado performed some Ovechkin-like digging of the five-hole to bring the team within one. Two shifts later, the Squirrels saw light at the end of the tunnel with Richelsen scoring his second from a head man pass by Ben Sumner. With the score tied, the Squirrels were playing at the level they are used to. Still early in the period, Mark Tessar scored as he crashed the net along with Bob Valdes and Jeff Bobeck to give the Squirrels an eventual game winner.
With one minute left in the game, Scurvy II called a time out and put all their best players on the ice. With an icing by the Squirrels and 40 seconds left on the clock, the game was not over. The Scurvy goaltender was on the bench. Brent Machado won the face off back to Desmond Richelsen, who took his time behind Squirrels net to carefully send the puck coast to coast, squarely into the Scurvy empty net.
Other than a great comeback win, another achievement for the Squirrels is the fact they did not receive a single penalty.
Photos by Rob Myers.
Game Details
Scoring
Shots on Goal

| | | | | |
| --- | --- | --- | --- | --- |
| | 1 | 2 | 3 | Total |
| Screaming Squirrels | 1 | 0 | 4 | 5 |
| Scurvy II | 1 | 2 | 0 | 3 |

Squirrels 36
Scurvy II 28
Scoring Summary
Period 1
Scurvy II – Scott Striegel (unassisted) , 4:31
Screaming Squirrels – Anthony Richelsen (Doug Winters) , 10:08
Period 2
Scurvy II – Scott Striegel (Thomas Robertson) , 3:11
Scurvy II – Scott Striegel (Chris Sanick, Gregory Lauer) , 10:12
Period 3
Screaming Squirrels – Brent Machado (David Steckel) , 1:46
Screaming Squirrels – Anthony Richelsen (Benjamin Sumner) , 3:44
Screaming Squirrels – Mark Tessar (Robert Valdes, Jeffrey Bobeck) , 6:09
Screaming Squirrels – Desmond Richelsen (empty net) (Brent Machado) , 14:31
Penalties
Period 1
(no penalties)
Period 2
(no penalties)
Period 3
Scurvy II – Jay Costenbader (Slashing), 2 min , 9:26
Rosters
Screaming Squirrels
Scurvy II
Goalies
Players
Other facts
Referee
Default Referee, Jason Harab, Greg MummaScorekeeper
Melissa Mumma