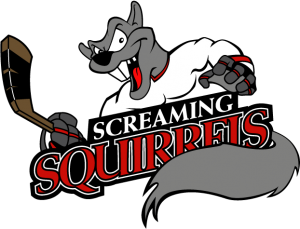 It's been quite awhile since the Screaming Squirrels had end game summaries, as their website underwent some long term reconstruction. With the implementation of a new website, you're beloved game recaps are here once again!
On Saturday January 16th, the Squirrels were matched up against Gnu, and showed no mercy with a 9-1 blowout victory. The first period was rather uneventful as Tony Richelsen got the scoring started with a sliding pass from Mike Bronson, who tripped just before crossing the blue line.
Things started to heat up early in the second period. Bob Valdes netted a goal just over one minute into the period. The Screaming Squirrels welcomed back Jason Nehmer who tallied assists on the next two goals. Mike and Tony finished the scoring for the second period.
The third period is where the Squirrels really turned up the heat, drawing two penalties for two power play goals. The Gnu got their only goal from a mishap with the officials. As the Referee raised his hand signaling a delayed penalty, Eric Coulson came out of the net to touch the puck. Although both Dan Carter and Eric possessed the puck, the officials did not blow the whistle and the Gnu scored on an open net. This lit a fire that resulted in a flurry of goals by the Squirrels to finish the game. Desmond Richelsen and Dan Carter each scored a goal, while Bob Valdes netted two in the final period. Bob and Tony both pulled hat-tricks in the game.
 Game Details
 Scoring
Shots on Goal

| | | | | |
| --- | --- | --- | --- | --- |
| | 1 | 2 | 3 | Total |
| Screaming Squirrels | 1 | 3 | 5 | 9 |
| Gnu | 0 | 0 | 1 | 1 |

Screaming Squirrels 46
Gnu 29
 Scoring Summary
Period 1
Screaming Squirrels – Anthony Richelsen (Michael Bronson) , 2:46
Period 2
Screaming Squirrels – Robert Valdes (tero moberg, Chi Pham) , 1:07
Screaming Squirrels – Anthony Richelsen (Chi Pham, Charles Wolstein) , 12:12
Screaming Squirrels – Michael Bronson (Charles Wolstein, Anthony Richelsen) , 12:26
Period 3
Screaming Squirrels – Anthony Richelsen (power play) (tero moberg, Benjamin Sumner) , 4:04
Gnu – Greg Dillman (Andrew Somich) , 4:49
Screaming Squirrels – Robert Valdes (Michael Bronson) , 11:21
Screaming Squirrels – Desmond Richelsen (power play) (tero moberg, Daniel Carter) , 12:00
Screaming Squirrels – Daniel Carter (Charles Wolstein, Desmond Richelsen) , 12:42
Screaming Squirrels – Robert Valdes (tero moberg, Michael Bronson) , 14:53
Penalties
Period 1
Gnu – Nick Bergeris (Tripping), 2 min , 5:50
Period 2
(no penalties)
Period 3
Gnu – Andrew Somich (Tripping), 2 min , 3:03
Screaming Squirrels – Daniel Carter (Hooking), 2 min , 9:31
Gnu – Nick Bergeris (Tripping), 2 min , 10:15
Gnu – John Magoon (Slashing), 2 min , 14:53
Rosters
Screaming Squirrels
Gnu
Goalies
Players
Other facts
Referee
Default Referee, , John Oneill, Justin Wade

Scorekeeper
Linnea Fransen