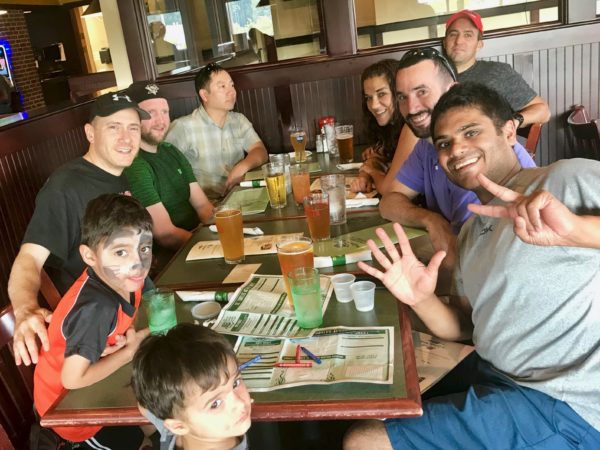 The Squirrels and Polar Beers played an epic game Sunday, one of the most drama-filled regular season games in recent memory, with the Squirrels coming out on top, 10-9, in a shootout.
Vivek Pinto led the way for the Squirrels, scoring a team record six goals (plus an assist), and scoring the shootout winner.
But the game started out looking like a blowout, as the Polar Beers took a 4-0 lead in the first period and looked like the better of the two teams. Pinto, who shifted over from center to left wing midway through the period,  then scored two in the final few minutes of the period to cut the lead to 4-2.
Mike Bartock and Pinto scored early in the second period to tie the game, but the Polar Beers scored two of the next three – Pinto notched his fourth – to take a 6-5 lead going into the third.
The Polar Beers would extend the lead two more times in the third – with Pinto again scoring to keep it close – before Charles Wolstein lofted a power play shot that hit off a player into the net to cut the Polar Beers' lead to 8-7.
Pinto would add his 6th a couple of minutes later to tie the game before the Squirrels got a late 4-minute power play. Mario Constantinou gave the Squirrels the lead on the power play but a late penalty gave the Polar Beers life, and they tied the game with 46 seconds to play.
In the shootout, Pinto scored on his first shot while Craig Beatty stopped all three attempts.
It was the last game as a Squirrel for Bryan Chiang, who is moving back to California.
 Game Details
 Scoring
Shots on Goal

| | | | | | |
| --- | --- | --- | --- | --- | --- |
| | 1 | 2 | 3 | SO | Total |
| Screaming Squirrels | 2 | 3 | 4 | 1 | 10 |
| Polar Beers – Bronze 1 | 4 | 2 | 3 | 0 | 9 |

Screaming Squirrels 22
Polar Beers – Bronze 1 30
 Scoring Summary
Period 1
Polar Beers – Bronze 1 – Matt Mancini (unassisted) , 0:44
Polar Beers – Bronze 1 – Matt Mancini (Erik Davis) , 3:57
Polar Beers – Bronze 1 – Matt Mancini (Rob Zimmerman) , 9:30
Polar Beers – Bronze 1 – Matt Judge (power play) (Rob Zimmerman, Tyler Darby) , 11:08
Screaming Squirrels – Vivek Pinto (Brent Machado, Michael Bartock) , 11:41
Screaming Squirrels – Vivek Pinto (Michael Bartock) , 12:46
Period 2
Screaming Squirrels – Michael Bartock (power play) (Brent Machado) , 1:02
Screaming Squirrels – Vivek Pinto (Bryan Chiang) , 6:51
Polar Beers – Bronze 1 – Matt Mancini (Michael Ryan) , 11:07
Screaming Squirrels – Vivek Pinto (David Chung) , 12:17
Polar Beers – Bronze 1 – Alex Mcdonnell (unassisted) , 14:54
Period 3
Polar Beers – Bronze 1 – Rob Zimmerman (Tyler Darby) , 3:59
Screaming Squirrels – Vivek Pinto (Bryan Chiang) , 4:43
Polar Beers – Bronze 1 – Michael Ryan (unassisted) , 4:58
Screaming Squirrels – Charles Wolstein (power play) (unassisted) , 5:42
Screaming Squirrels – Vivek Pinto (unassisted) , 7:27
Screaming Squirrels – Mario Constantinou (power play)(David Chung, Vivek Pinto) , 11:34
Polar Beers – Bronze 1 – Matt Mancini (power play) (Daniel Leach) , 14:14
Shootout
Screaming Squirrels – Vivek Pinto (unassisted) , 0:01
Shootout
 Screaming Squirrels
 Polar Beers – Bronze 1

| | |
| --- | --- |
| SHOOTER | SCORE |
| Vivek Pinto | yes |
| Mario Constantinou | no |

| | |
| --- | --- |
| SHOOTER |  SCORE |
| Erik Davis | no |
| Matt Mancini | no |
| Tyler Darby | no |

TOTALS:    1
TOTALS:    0      
Penalties
Period 1
Screaming Squirrels – Brent Machado (Roughing), 2 min , 9:55
Polar Beers – Bronze 1 – Matt Judge (Tripping), 2 min , 14:27
Period 2
Screaming Squirrels – Brent Machado (Slashing), 2 min , 4:28
Screaming Squirrels – Scott Kronzek (Slashing), 2 min , 12:58
Polar Beers – Bronze 1 – Rob Zimmerman (Slashing), 2 min , 12:58
Period 3
Polar Beers – Bronze 1 – Steven Porter (Tripping), 2 min , 5:27
Polar Beers – Bronze 1 – Matt Judge (Roughing), 2 min , 5:29
Screaming Squirrels – Brent Machado (Roughing), 2 min , 5:29
Polar Beers – Bronze 1 – Matt Judge (Roughing), 2 min , 9:54
Polar Beers – Bronze 1 – Matt Judge (Roughing), 2 min , 9:54
Screaming Squirrels – Brent Machado (Tripping), 2 min , 13:53
Rosters
Screaming Squirrels
Polar Beers – Bronze 1
Goalies
Players
Other facts
Referee
Matt Bedics, John OneillScorekeeper
Chris Mccorkle