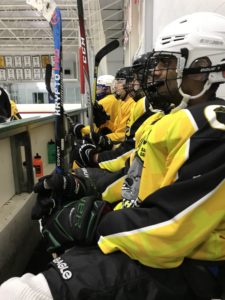 The Squirrels beat a very shorthanded Outsiders team on Wednesday, taking a comfortable lead before surrendering some late goals, but holding on for a 7-5 win.
Scott Kronzek scored the first two goals for the Squirrels, but the Outsiders answered with two of their own in the first period.
Brent Machado, Dave Chung and Mario Constantinou each scored in the second period as the Outsiders managed only one.
Mike Bartock scored on the power play early in the third but the Outsiders scored twice in 17 seconds in the closing minutes to cut the score to 6-5. Mike Bartock scored on an empty netter from deep in the defensive zone to seal the win.
Dan Bartock played his first game for the Squirrels.
 Game Details
 Scoring
Shots on Goal

| | | | | |
| --- | --- | --- | --- | --- |
| | 1 | 2 | 3 | Total |
| Screaming Squirrels | 2 | 3 | 2 | 7 |
| The Outsiders | 2 | 1 | 2 | 5 |

Screaming Squirrels 30
The Outsiders 29
 Scoring Summary
Period 1
Screaming Squirrels – Scott Kronzek (Robert Valdes) , 2:26
Screaming Squirrels – Scott Kronzek (Benjamin Sumner) , 3:51
The Outsiders – David Petrick (Ryan Morse, Aaron Robinson) , 6:16
The Outsiders – Ryan Morse (James Hitaffer) , 9:07
Period 2
Screaming Squirrels – Brent Machado (Benjamin Sumner) , 0:30
Screaming Squirrels – David Chung (Bryan Chiang, Robert Valdes) , 5:56
The Outsiders – Michael Lembo (Karim Salmi) , 7:24
Screaming Squirrels – Mario Constantinou (Neil Shah) , 11:19
Period 3
Screaming Squirrels – Michael Bartock (power play) (scott Kronzek, Mario Constantinou) , 5:45
The Outsiders – Aaron Robinson (David Petrick) , 13:23
The Outsiders – Aaron Robinson (unassisted) , 13:40
Screaming Squirrels – Michael Bartock (empty net) (unassisted) , 14:18
Penalties
Period 1
The Outsiders – Jonathan Sudduth (Slashing), 2 min , 11:42
The Outsiders – Jonathan Sudduth (Tripping), 2 min , 11:42
Period 2
The Outsiders – Jonathan Sudduth (Cross Checking), 2 min , 14:06
Period 3
Screaming Squirrels – Robert Valdes (Cross Checking), 2 min , 1:22
The Outsiders – David Petrick (Roughing), 2 min , 5:30
Rosters
Screaming Squirrels
The Outsiders
Goalies
Players
Other facts
Referee
Jeff Baker, Eric WinikScorekeeper
Valerie Young