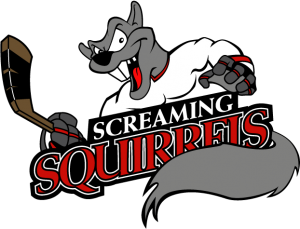 Playing their last game of the regular season against the first-place Piranhas, the Screaming Squirrels took a 2-1 lead into the last few minutes but ultimately settled for a 2-2 tie, which kept them from at least temporarily taking over first place in the division.
The Squirrels gave up a short-handed goal to the one guy who doesn't know which jersey color to bring – John Kucharski – in the first period against sub goaltender Sergey Kocharov before finally finding the net in the third. After changing the forward line combinations after the second, Jon Danziger whistled a shot into the top-right corner to tie the game at 1. Later int he period, Ben Sumner stole the puck from Kucharski behind the net, found Mark Tessar out front who banged it in.
Later in the period, some rough stuff went down but it was ultimately Tessar who got the lone penalty. The Piranhas capitalized and the teams finished out the game tied at 2 apiece.
The Squirrels are now awaiting the results of the Scurvy and Bullets, who each have a game to play, to see where they'll be seeded for the playoffs.
 Game Details
 Scoring
Shots on Goal

| | | | | |
| --- | --- | --- | --- | --- |
| | 1 | 2 | 3 | Total |
| Screaming Squirrels | 0 | 0 | 2 | 2 |
| Piranhas | 1 | 0 | 1 | 2 |

Squirrels 30
Piranhas 22
Penalties
Period 1
Piranhas – David Quigley (Hooking), 2 min , 4:45
Piranhas – David Montgomery (Elbowing), 2 min , 9:15
Period 2
Screaming Squirrels – Anthony Richelsen (Body Checking), 2 min , 9:40
Period 3
Piranhas – Chris Clark (Hooking), 2 min , 6:24
Screaming Squirrels – Jonathan Danziger (Too Many Men(Bench Minor), 2 min , 8:29
Screaming Squirrels – Mark Tessar (Head Contact), 2 min , 11:22
Rosters
Screaming Squirrels
Piranhas
Goalies
Players
Other facts
Referee
Default Referee, Forrest Appleton, Greg MummaScorekeeper
Melissa Mumma