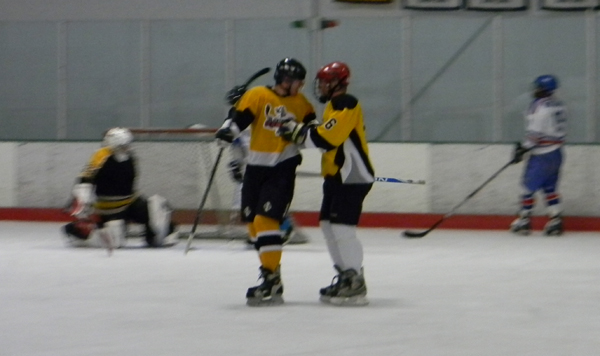 The Piranhas sort of got their revenge after several losses against the Squirrels by bouncing them from the playoffs Thursday, 4-2. The Squirrels had beaten them twice this season, and 8-0 in last winter's finals.
The Squirrels dressed a full bench but the league's leading scorer, John Kucharski (who had 14 more points than the second league leader), notched two goals, including the winner in the third. In his final game before moving to Kentucky, Jason Nehmer (No. 88, pictured) scored twice.
The Piranhas, the third seed, advance to the finals for the second winter in a row, where they will face the No. 1 seed, the Highlanders, who beat DC Fire in overtime.
The Squirrels will be back on the ice soon as they're fielding another summer team.
Game Details
Scoring
Shots on Goal

| | | | | |
| --- | --- | --- | --- | --- |
| | 1 | 2 | 3 | Total |
| Piranhas | 2 | 0 | 2 | 4 |
| Screaming Squirrels | 0 | 1 | 1 | 2 |

Piranhas 27
Squirrels 23
Penalties
Period 1
Screaming Squirrels – Jeffrey Bobeck (Interference), 2 min , 13:58
Piranhas – Chris Neall (Roughing), 2 min , 15:00
Period 2
Piranhas – David Montgomery (Holding), 2 min , 5:54
Screaming Squirrels – Doug Winters (Interference), 2 min , 8:47
Piranhas – David Montgomery (Head Contact/Checking), 2 min , 9:18
Period 3
Screaming Squirrels – Brent Machado (High Sticking), 2 min , 4:07
Piranhas – Brian Neall (Tripping), 2 min , 11:13
Rosters
Piranhas
Screaming Squirrels
Goalies
Players
Other facts
Referee
Default Referee, Patricia Foote, Keith RaygorScorekeeper
Alyssa Walker