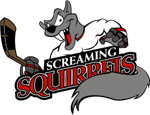 Oddly enough, Sunday's 3-1 victory for the Squirrels won't earn them extra standings points, since a scheduling abnormality got them an extra game in the regular season. Instead, the win kept them from losing two points. While the first-round playoff opponent isn't set until after the Piranhas-Nordiques game, the Squirrels stepped up their efforts in preparation for the playoffs, which begin next week.
After a scoreless first period, goaltender Eric Coulson let in his only goal of the game early in the second. But the Squirrels' took advantage of quality blueline shots as Don Marks and Chi Pham each tallied, with Pham's marker coming on a power play.
After lots of hard work in keeping it 2-1, the Squirrels added an insurance marker on another power play as Paul Kobernick netted a rebound. Brent Machado earned assists on all three goals, and led the Squirrels in scoring with 13 goals and 9 assists for the season.
The Squirrels finished 12-8-1 on the season (with one win not counting) as they head into the playoffs, set to defend their Bronze 2 winter championship.
Game Details
Scoring
Shots on Goal

| | | | | |
| --- | --- | --- | --- | --- |
| | 1 | 2 | 3 | Total |
| Screaming Squirrels | 0 | 2 | 1 | 3 |
| Strange Brew II | 0 | 1 | 0 | 1 |

Squirrels 28
Strange Brew II 28
Penalties
Period 1
(no penalties)
Period 2
Strange Brew II – Joseph Huntington (Tripping), 2 min , 5:30
Strange Brew II – Matt Wienold (Body Checking), 2 min , 6:12
Screaming Squirrels – Brent Machado (Slashing), 2 min , 6:37
Screaming Squirrels – Robert Valdes (Interference), 2 min , 13:57
Period 3
Strange Brew II – Keith Olin (Interference), 2 min , 8:30
Strange Brew II – Chris Steacy (Roughing), 2 min , 9:08
Screaming Squirrels – Mark Tessar (Roughing), 2 min , 12:40
Strange Brew II – Thomas Hall (Roughing), 2 min , 12:40
Screaming Squirrels – Mark Tessar (Roughing), 2 min , 14:40
Strange Brew II – Thomas Hall (Roughing), 2 min , 14:40
Rosters
Screaming Squirrels
Strange Brew II
Goalies
Players