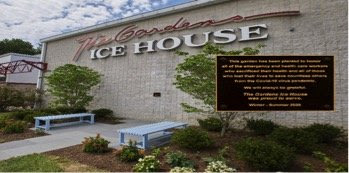 A letter from the Gardens Ice House
August 21, 2020
On July 16th 2020 we unveiled our Commemorative Garden (below) dedicated to all emergency and healthcare workers who put themselves at risk, sacrificed their health and all of those who lost their lives to save countless others during the Covid-19 pandemic. When the pandemic started, we closed our building out of an abundance of concern not knowing what the future would hold.
The State of Maryland and The Gardens Ice House entered into an agreement on April 15th 2020 to help protect the public health, our healthcare workers and Maryland first responders during the peak of the Covid-19 virus outbreak. The Maryland-National Capital Park and Planning Commission gave formal consent to the arrangement and agreed to deploy a detail of Park Police officers to maintain tight security for the State.
Under the terms of the agreement, the State used The Gardens Ice House to provide a cold space free of ice to perform their task of holding Marylanders that have died, not just from Covid- 19. We provided a way for this task to be done with dignity, professionally and with respect to those families. This was done in conjunction with the state health department, University of Maryland Medical System and the state anatomy board adhering to state laws and regulations.
The State will thoroughly clean and disinfect the facility before it will be safely reopened. We are happy to announce that we are tentatively scheduled to reopen Saturday September 12th 2020. We will have more information soon. Although we are tentatively scheduled to reopen, Prince George's County does not allow for games to be played at this time. We remain in close communication with the county and are working to resume league play as soon as is safely possible.
These were and are unprecedented times and anything The Gardens Ice House can do to help healthcare workers, first responders and Marylanders in general we will do. We are excited to welcome you back and look forward to providing a safe return to the ice.