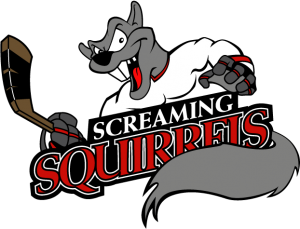 The Squirrels came out dominating in their second game of the season Wednesday, but couldn't get one past High Rollerz goaltender Justin Weston. Then a breakaway goal by longtime Rough Rider Brandon Ogden put the Squirrels in a 1-0 hole.
But the offensive-zone possession continued as Steven Heger and Mark Tessar put together a passing show to set up Ben Sumner and Juan Canchasto on virtually the same play. About four minutes apart, Sumner and Canchasto each stood on the left side of the crease and banged home centering passes to give the Squirrels the lead.
The High Rollerz got a power play early in the second period and converted with only four seconds remaining, which tied the score at two. But Brian Icick and Rob Myers each scored to give the Squirrels a 4-2 lead, before the Squirrels ended the game killing a four-minute penalty.
Normally forwards, Eric Smith and Rob Myers each played defense, along with Heger and Don Marks. The Squirrels put up 37 shots and Stu Miller made some great saves down the stretch to preserve the Squirrels' lead.
Game Details
Scoring
Shots on Goal

| | | | |
| --- | --- | --- | --- |
| | 1 | 2 | Total |
| High Rollerz | 1 | 1 | 2 |
| Squirrels | 2 | 2 | 4 |

High Rollerz 13
Squirrels 37
Penalties
Period 1
High Rollerz – Robert Banks (Hooking), 2 min , 6:40
Period 2
Squirrels – Juan Carlos Canchasto (Hooking), 2 min , 1:14
High Rollerz – Scott Janik (Cross Checking), 2 min , 10:26
Squirrels – Steven Heger (Roughing), 2 min , 10:26
Squirrels – Jeff Ford (High Sticking), 2 min , 13:07
Squirrels – Jeff Ford (High Sticking), 2 min , 13:07
Rosters
High Rollerz
Squirrels
Goalies
Players
Other facts
Referee
Default Referee, Jason Harab, William HameleScorekeeper
Hector Rosario