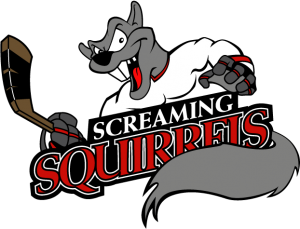 Boosted by three goals by Don Marks, the Screaming Squirrels took a 4-1 lead into the third period and held on despite several penalties for a 5-4 win against one of the top teams in the division.
The Highlanders put 40 shots on backup goaltender Eric Coulson, but his 36 saves, and assist, were enough for the win.
The Squirrels scored four power play goals, gave up a short-handed goal, and gave up two power play goals in the third during a 5-minute major penalty.
Marks' first and third goals came off slap-shots, with his second coming on an individual effort. All three were on the PP. Mark Tessar also scored on the first shift of the game when the goaltender made the initial save but the puck then bounced right over him. Jon Danziger also scored for the Squirrels.
With the win, the Squirrels jumped ahead into second in the standings.
 Game Details
 Scoring
Shots on Goal

| | | | | |
| --- | --- | --- | --- | --- |
| | 1 | 2 | 3 | Total |
| The Highlanders | 0 | 1 | 3 | 4 |
| Screaming Squirrels | 2 | 1 | 2 | 5 |

The Highlanders 40
Squirrels 27
 Scoring Summary
Period 1
Screaming Squirrels – Mark Tessar (unassisted) , 0:53
Screaming Squirrels – Jonathan Danziger (power play) (Doug Winters) , 10:32
Period 2
Screaming Squirrels – Donald Marks (power play) (Desmond Richelsen, Jonathan Danziger) , 6:16
The Highlanders – Jeff Gellman (short handed) (unassisted) , 7:44
Period 3
Screaming Squirrels – Donald Marks (power play) (Eric Coulson) , 4:39
The Highlanders – Nick Newman (power play) (unassisted) , 6:12
The Highlanders – Jeff Gellman (power play) (unassisted) , 7:32
Screaming Squirrels – Donald Marks (power play) (Doug Winters, David Steckel) , 12:49
The Highlanders – Kevin Low (Steve Causey, Jeff Gellman) , 14:49
Penalties
Period 1
The Highlanders – Kevin Moore (Roughing), 2 min , 1:02
Screaming Squirrels – Robert Valdes (Elbowing), 2 min , 4:38
Screaming Squirrels – Desmond Richelsen (Hooking), 2 min , 5:33
The Highlanders – Kevin Low (Hooking), 2 min , 9:16
Screaming Squirrels – Benjamin Sumner (Slashing), 2 min , 11:57
Period 2
Screaming Squirrels – Jonathan Danziger (Body Checking), 2 min , 3:21
The Highlanders – Nicholas Minarik (Too Many Men(Bench Minor), 2 min , 4:19
The Highlanders – Sean Oconnor (Slashing), 2 min , 4:31
The Highlanders – Joe Burkhardt (Hooking), 2 min , 5:37
Period 3
The Highlanders – Nicholas Minarik (Boarding), 2 min , 2:44
Screaming Squirrels – Brent Machado (Cross Checking(Major), 5 min , 4:57
Screaming Squirrels – Doug Winters (Tripping), 2 min , 8:00
Screaming Squirrels – Desmond Richelsen (Roughing), 2 min , 8:25
The Highlanders – Nick Newman (Roughing), 2 min , 8:25
The Highlanders – Justin Smith (Interference), 2 min , 10:58
Rosters
The Highlanders
Screaming Squirrels
Goalies
Players
Other facts
Referee
Default Referee, Brandon Cohen, Nick TorreScorekeeper
Linnea Fransen