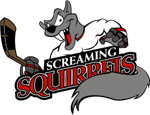 Despite outshooting the Piranhas, 32-17, the Squirrels only managed a 3-2 victory Sunday in a game in which the Piranhas didn't even have enough players for a full line change.
But a win is a win and the Squirrels will take it.
Brent Machado, Bob Valdes, and Rob Myers scored for the Squirrels, who surrendered a late goal before aggressively killing the clock in the final moments.
Game Details
Scoring
Shots on Goal

| | | | | |
| --- | --- | --- | --- | --- |
| | 1 | 2 | 3 | Total |
| Piranhas | 1 | 0 | 1 | 2 |
| Screaming Squirrels | 2 | 0 | 1 | 3 |

Piranhas 17
Squirrels 32
Penalties
Period 1
(no penalties)
Period 2
Piranhas – David Montgomery – (Holding Minor), 2 min , 12:22
Period 3
(no penalties)
Rosters
Piranhas
Screaming Squirrels
Goalies
Players
Staff
Other Facts
Referee
Forrest Appleton, Clark FordenScore Keeper
Norma Warwick