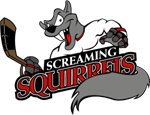 For the third straight game, the Screaming Squirrels surrendered the first goal of the game, but unlike last week's 4-2 defeat, the Squirrels' opponents weren't able to build on their early lead, and timely goals from the Flying Finn, Tero Moberg, and assistant captain Ben Sumner were all that would be needed to knock off a strong Highlanders team.
Goalie Eric Coulson had a very strong game in net, seeing the puck extremely well, making all the saves he should have, and keeping rebound opportunities to a bare minimum. There was little to be done on the one Highlanders goal, as an errant pass (or was it a shot?) was deadened by defenseman Doug Winter, and landed right on the stick of Rahul Paris standing all alone just above Coulson's crease. "I didn't even know that guy was there all by himself. It's like he materialized out of no where. I certainly would have made a different save selection had I'd known he was there." No doubt, the double pad stack was not an ideal save selection.
But again, it was all the Highlander's could muster. D-man Des Richelsen was throwing his ample weight around all night long after getting the verbal sparring going early with Highlander Joe Burkhardt. Former (and soon to be again?) Squirrel Jason Nehmer said post game, "What the hell was Des's problem tonight? He nailed me hard twice." Big Des took two penalties in the second period for playing the body rather than the puck, but he quickly learned his lesson and started playing the puck first, before dropping bombs on poor Highlander players. Des also brought the offense from the backend by spearheading the rush up ice that led to Sumner's first of the young season, a well placed wrist shot along the ice.
Tero brought his typical junk yard dog mentality to the lineup for the first time this season (filling in for an injured Dan Carter and missing Rob Meyers) and scored what turned out to be the game winner on a perfectly placed wrist shot just inside the far post. Said the big Finn, "I was thinking I would try to go around him but then I looked and saw that spot." Well played sir!
The Squirrel's penalty killing deserves mention as well. The Highlander's were 0-5 on the PP despite what seemed like ample time in the zone. Squirrel's defensemen Winters and Charles Wolstein blocked shots with aplomb, forwards Tony Richelsen, Brent Machado, and Jeff Headlee denied time and space well and were ferocious battling for the puck, and rookies John Burke and Bill Rand were effective in clogging up passing lanes and generally creating havoc for the oncoming Highlanders.
A VERY satisfying win for the Squirrels against what most players thought was a somewhat more skilled Highlanders team. We buried our chances and denied theirs thanks to tenacious D and a stone wall in net.
Next game is Tuesday, May 18th @ 9:50 PM on the Resor rink against the Laughing Skulls. Who's on beer duty?
Game Details
Scoring
Shots on Goal

| | | | | |
| --- | --- | --- | --- | --- |
| | 1 | 2 | 3 | Total |
| The Highlanders | 0 | 1 | 0 | 1 |
| Screaming Squirrels | 0 | 0 | 2 | 2 |

The Highlanders 26
Squirrels 30
Penalties
Period 1
(no penalties)
Period 2
Screaming Squirrels – Desmond Richelsen – (Interference Minor), 2 min , 8:00
Screaming Squirrels – Desmond Richelsen – (Roughing Minor), 2 min , 11:58
The Highlanders – Nick Newman – (Unsportsmanlike Conduct Minor), 2 min , 11:58
Screaming Squirrels – Brent Mochado – (Tripping Minor), 2 min , 14:24
Period 3
The Highlanders – Nick Newman – (Body Checking Minor), 2 min , 4:38
Screaming Squirrels – Brent Mochado – (Tripping Minor), 2 min , 8:48
The Highlanders – Jon Funk – (Tripping Minor), 2 min , 9:51
Screaming Squirrels – William Rand – (Interference Minor), 2 min , 15:00
Rosters
The Highlanders
Screaming Squirrels
Goalies
Players