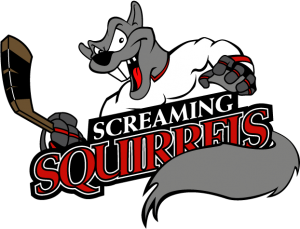 With five new members in the lineup, the Squirrels started their Summer 2010 season on the wrong foot, going down 2-0 in the third period before scoring three straight for a 3-2 victory.
Brent Machado scored in his first game back, as did new Squirrel Michael Ricci. The third goal was also credited to Machado though someone said Jeff Headley actually scored it.
The Squirrels welcome Ricci, Doug Winters, who played a great game on defense, John Burke, David Fronapfel, and William Rand. Another new guy, David Steckel (not the one from the Capitals), is out with an injury.
Squirrel Chris Wautel was the scorekeeper, crediting the Squirrels with a 40-11 shot advantage.
Game Details
Scoring
Shots on Goal

| | | | | |
| --- | --- | --- | --- | --- |
| | 1 | 2 | 3 | Total |
| Pucks Deep | 1 | 0 | 1 | 2 |
| Screaming Squirrels | 0 | 0 | 3 | 3 |

Pucks Deep 11
Squirrels 40
Penalties
Period 1
Pucks Deep – Jim Howard – (Slashing Minor), 2 min , 11:27
Period 2
(no penalties)
Period 3
(no penalties)
Rosters
Pucks Deep
Screaming Squirrels
Goalies
Players
Staff
Other Facts
Referee
Default Referee, Patricia Foote, Jason HarabScore Keeper
Chris Wautel